Look for 'RICS Regulated' – for your peace of mind and protection

This page explains the benefits of using a RICS regulated firm and how you can identify whether or not a firm is regulated by RICS.
If you use a firm that is not regulated by RICS to undertake surveying services for you, you may not have any protection in place at all. For your peace of mind and protection, remember to check whether the firm is 'Regulated by RICS' before you make your choice.
Please note that not all firms listed on the "Find A Surveyor" website are RICS Regulated Firms.
What does RICS regulation mean?
When a firm is regulated by RICS, it means that:
The firm must comply with our Rules of Conduct
The firm has confirmed that it meets our eligibility criteria for regulation and that the people who manage it are suitable
The firm must have a Complaints Handling Procedure and respond promptly, openly and professionally to your complaint
The firm must appoint an alternative dispute resolution (ADR) provider which consumer clients can use (free of charge) if your complaint is not resolved by the firm. ADR Providers can award compensation in some instances
You can make a complaint to us if you have concerns about the firm or RICS members working there
RICS Regulation can receive concerns and, if appropriate, investigate your concerns and take further disciplinary action, if a RICS regulated firm does not comply with the rules and standards we set
RICS Regulated Firms that undertake valuations, hold client money (in the UK) or are part of the Designated Professional Body Scheme (in the UK) are subject to audit and review by RICS regulation
High ethical and technical standards
RICS members and RICS regulated firms must comply with our Rules, Standards and Guidance. By agreeing to be regulated by RICS, RICS members and RICS regulated firms accept accountability for the quality of their services.  Additionally, all RICS members are required to undertake annual continuing professional development (CPD) to ensure that they keep their skills and knowledge up to date.
How to tell whether a firm is regulated by RICS on Find a Surveyor
Regulated firms will have the words 'RICS Regulated" or "RICS Regulated Firm" on their search cards on the top right and on the right or left side of the office listing page.
Search card example:

Office listing page: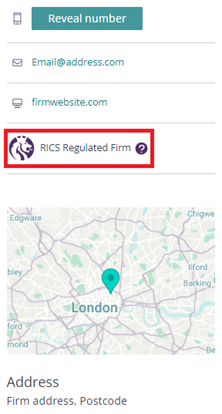 Additionally, regulated firms should display either the logo or the words 'Regulated by RICS' on their website and business literature. They should also highlight their regulated status in their Terms of Engagement.
Professional Indemnity Insurance (known as PII)
RICS regulated firms are required to have professional indemnity insurance (PII) that meets RICS' rigorous minimum standards. The purpose of PII is to cover a firm for claims of negligence, which can be very costly. Firms have this insurance in place so that if they are unsuccessful in defending a claim, the cost can be met. This provides protection both for the firm and for its clients.
RICS regulated firms declare to RICS on registration and annually upon renewal that they have the required Professional Indemnity Insurance (PII) .   When contracting with a surveying firm, you should ensure that you are satisfied that the firm has the necessary PII in place to cover the services being provided.
Client Money Protection (UK only)
Regulated firms in the UK that handle client money must be  registered with RICS' Client Money Protection Scheme. All RICS-regulated firms must meet obligations to treat your money appropriately, whist the Scheme provides protection for client money held by the firm if something goes wrong and the money cannot be recovered in any other way. By using a RICS-regulated firm, you can have confidence that any client money they handle on your behalf is protected.
What is client money?
Money of any currency (whether in the form of cash, cheque, draft or electronic transfer) that: (a) a RICS-regulated firm holds for or receives on behalf of another person, including money held by a regulated firm as stakeholder and (b) is not immediately due and payable on demand to the RICS-regulated firm for its own account (excluding fees paid in advance for professional work agreed to be performed).
Resources
RICS Client Money Handling Professional Standard (1st ed. PDF, 1.95MB): This professional standard provides rules for RICS members and regulated firms to have the appropriate controls and procedures to keep client money safe. The Standard applies to all RICS members and regulated firms operating in the UK.
RICS Client Money Protection Scheme Rules (PDF, 2.83KB, 24 pages): This document sets out the details of the various RICS client money protection provisions which apply to RICS Registered Firms.
Obligations on UK firms to protect client money
RICS members and RICS-regulated firms must ensure any client money that they receive is kept safe and client money accounts are used for appropriate purposes only. RICS-regulated firms must have the appropriate controls and procedures to safeguard client money.
How the Client Money Protection Scheme protects you if client money is lost
The Client Money Protection Scheme (CMPS) provides insurance protection, as a last resort, in instances where a RICS Regulated firm is unable to repay a client's money entrusted to it (up to the limits and exceptions set out in the CMPS Rules).
In the unlikely event that there is a loss of client money held by a RICS-regulated firm , you can submit a claim to RICS's Client Money Protection Scheme (CMPS). This is an Insurance Scheme of last resort, so you will need to demonstrate that you have tried everything you can to recover the client money funds. If your attempts are unsuccessful and your claim meets the criteria for payment, the Insurer will make payment against the claim. The client money protection insurance does not cover any other losses or damages resulting from surveying activities, including but not limited to professional negligence claims. These should, in most cases, be covered by a firm's professional indemnity insurance.
The RICS Client Money Protection Scheme is also approved by the Department for Levelling Up, Housing and Communities under the Client Money Protection Schemes for Property Agents (Approval and Designation of Schemes) Regulations 2018. 
Making a complaint about a RICS regulated firm or member
If you are unhappy with the service that a RICS regulated firm has provided, you should Report your concerns via our website
Or email complaints@rics.org with detailed information for your concerns to be assessed by RICS Regulation.
If you need any help in reporting your concern, or require any reasonable adjustment to support your needs, we will do our best to help you. You can contact us to discuss this by telephone on +44 20 7695 1670.
Depending on the nature of your concerns and the steps that you have already taken, it may be appropriate for you to first formally complain to the RICS regulated firm in accordance with the Complaints Handling Procedure, including the referral to the ADR provider as set out in the second part of the complaints handling.  Referral to the ADR provider is a free process and mechanism for consumers.   
There are certain concerns you might raise that we would want to investigate further, particularly if we have concerns about a RICS regulated firm or a member's conduct. This is all part of upholding the high standards you can expect when you use a firm that is regulated by RICS.
RICS' regulatory remit extends to the investigation of current members and RICS regulated firms for non-compliance of RICS Rules, Standards and Guidance.  Should RICS conclude an investigation which is referred to a Disciplinary Panel of the Regulatory Tribunal, potential sanctions that may be imposed, include:
Reprimand
Undertakings
Fine
Conditions
Expulsion for RICS members or Removal from RICS register for Regulated Firms
RICS does not have the regulatory remit to award compensation to consumers, settle disputes or investigate professional negligence.  
Sorry about that
How can we improve it?

Please do not include any personal information
Thank you for your feedback!