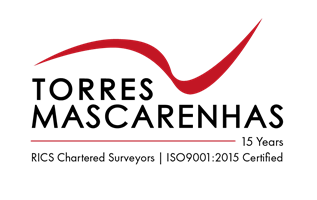 Torres Mascarenhas Lda
Our company provides a comprehensive array of services ranging from valuation to consulting and management. Our clients are very prestigious intitutions and corporations including the big four. Join this prestigious group today and experience the knowledge and dedication of our professionals. We have been growing every year since the last eight years and that alone proves the quality of our work.

Valuation
We provide real estate, machinery, equipment and corporate valuation (equity and enterprise value) services.

Consulting
We provide real estate and corporate consulting namely investment analysis, feasibilty studies, market studies, strategic plans. business plans and restructuring .

Management
We provide investment management which means that if you are an investor and you want to maximize the return on your capital we can help you invest in real estate portfolios and in corporations .





Works for
Residential customers
Commercial contracts
Business type
Private Practice
Surveying services
Valuation
Business valuation
Investments
Plant & machinery
Project management
Architecture
RICS Regulated Firm
Firms that come under RICS regulation are easy to spot as they use the words 'Regulated by RICS' on their letterhead and other communication materials. Regulated firms must follow the RICS Rules of Conduct for Firms and are held to a higher standard in areas such as staff training, professional indemnity insurance, complaints handling and security of clients' money.
Address
Rua Pedro E Ines 3 Piso 2 Esc. 10, Parque Das Nacoes, Lisboa, 1990-074
Firms that are Regulated by RICS commit to the highest professional and ethical standards. In the rare cases where disciplinary action has been taken against a firm, records are published online.
If you cannot find the information you are looking for, please contact RICS Regulation at regulation@rics.org. Alternatively, if you wish to make a complaint, please contact complaints@rics.org.