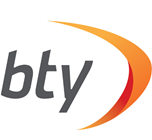 BTY Group
BTY began in 1979 with offices in Vancouver, Edmonton and Calgary, the respective homes of the three founding principals: Barnett, Traherne and Yates.
Type of surveyor
Chartered Project Management Surveyor
Chartered Quantity Surveyor
Chartered Surveyor
Business type
Private Practice
Surveying services
Cost planning
Development monitoring & advice
Engineering
Hospitals & medical premises
Lifecycle costing
Project management
Quantity surveying
Sustainability
Languages
Chinese
English
French
Spanish
Firms that are Regulated by RICS commit to the highest professional and ethical standards. In the rare cases where disciplinary action has been taken against a firm, records are published online.
If you cannot find the information you are looking for, please contact RICS Regulation at regulation@rics.org. Alternatively, if you wish to make a complaint, please contact complaints@rics.org.