Find a surveyor near you
Insurance
Every situation involving property insurance has unique considerations. Surveyors are aware of insurance liabilities for their clients, and can advise on the most appropriate insurance to meet regulatory or other requirements.
Also known as Household contents valuation, Insurance loss adjustment and claims, Insurance reinstatement cost assessment, Property insurance assessment
8 surveyors offering Insurance in Reading
8 results
Regulated by RICS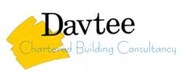 Davtee Investments Ltd, Davtee House, 11-13 Lenten Street, Alton, Hants, GU34 1HG
Visit website Email this firm Call this firm+44 (0) 1420 541529
Davtee Ltd is a group of family owned and run companies founded in 1972 Originally founded as a residential developer building over 300 houses mainly in the South of England.